From the Pastor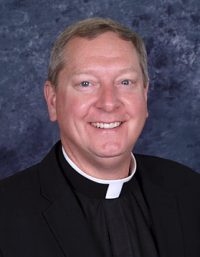 In 1868, the Roman Catholic Church made its presence felt in the Irwin Community when a parish church was established. Every Sunday since, Catholics have gathered to worship and celebrate the Holy Eucharist on Sundays in order to sustain them in the mission of spreading the Gospel message to the world around them.
This parish has given birth to the gifts of Faith through Baptism, Hope through the Sacraments of Matrimony and Holy Orders, and Love through the service to others; and parishioners remain as strong as their ancestors who came before them.
This beautiful church, in honor of Mary's Immaculate Conception, stands on the corner of Oak and Second and symbolizes the heart of its members. The architecture of the building reflects the strength of the community that gathers inside its walls, the reverence and love of what is worshipped and the dedication to providing the same opportunity for many generations to follow. The people are the Church. St. Paul reminds us that we, though many parts, are one body in Christ. This is the message exemplified in a Living Faith Community. Each individual is necessary to complete the whole. The whole, acting as stewards of their talents, reveals the glorious face of God.
It is my honor to serve as pastor and my privilege to live this time in history with all of you here, my favorite place, the corner of Oak and Second.
Sincerely yours in Christ,
Father John A. Moineau