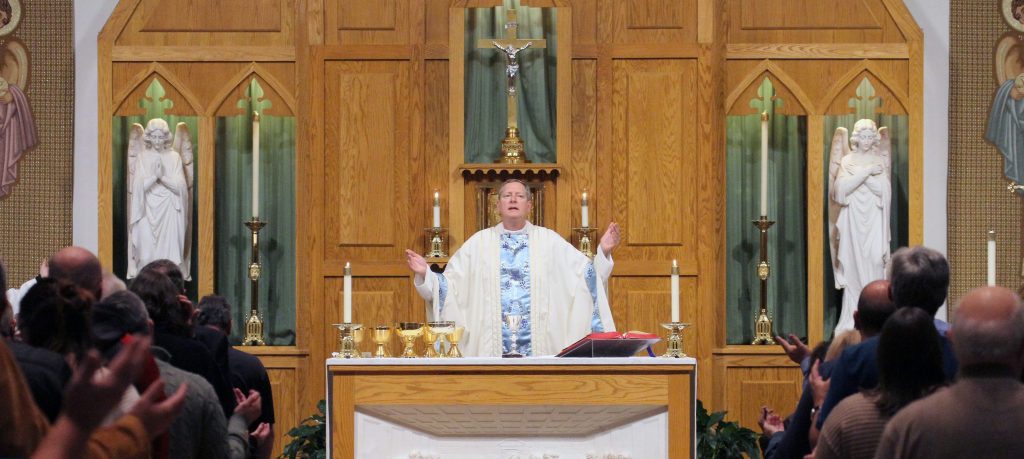 View Sunday Mass Online!
Tune to our new YouTube channel "Operation Safe Mode" for the latest video updates from Fr. John and Fr. Roniel and to view Masses online during the Coronavirus pandemic.
As concerns surrounding the spread of the coronavirus continue to grow, Bishop Edward C. Malesic, after consulting with the Presbyteral Council and senior staff, has decided to temporarily suspend all weekday and weekend public Masses in the Diocese of Greensburg effective Wednesday, March 18.
Tuesday, March 17 will be our final day of public Masses until further notice.
Weekend Mass Times
Saturday Vigil: 5 p.m.
Sunday: 8 a.m., 10 a.m. and 11:30 a.m.
Sunday: 6 p.m. Regional Mass at St. Barbara, Harrison City
Weekday Mass Times
Monday through Friday: 7:45 a.m.
Tuesday: 6:30 p.m.
Saturday: 8 a.m.
Confessions
Saturday: 9-10 a.m.
Tuesday: 5:15-6:15 p.m.
Anytime by appointment
Eucharistic Adoration
Adoration is held every Tuesday starting after 7:45 a.m. Mass and continues all day until 6:15 p.m. There are special prayer booklets available containing prayers for vocations during adoration.
Wednesday Evening Prayer
Canceled for March 25
Each month, on the last Wednesday of the month, please join your fellow parishioners for Wednesday Evening Prayer. At 6 p.m. we will have Adoration of the Blessed Sacrament and will finish with Benediction at 7 p.m. After Benediction, we will pray the rosary as a parish family.
Stop by anytime between 6-7:30 p.m. We can offer up all our individual prayers as a parish family and experience the power of prayer together! Come yourself or bring your whole family to this new tradition on the Corner!