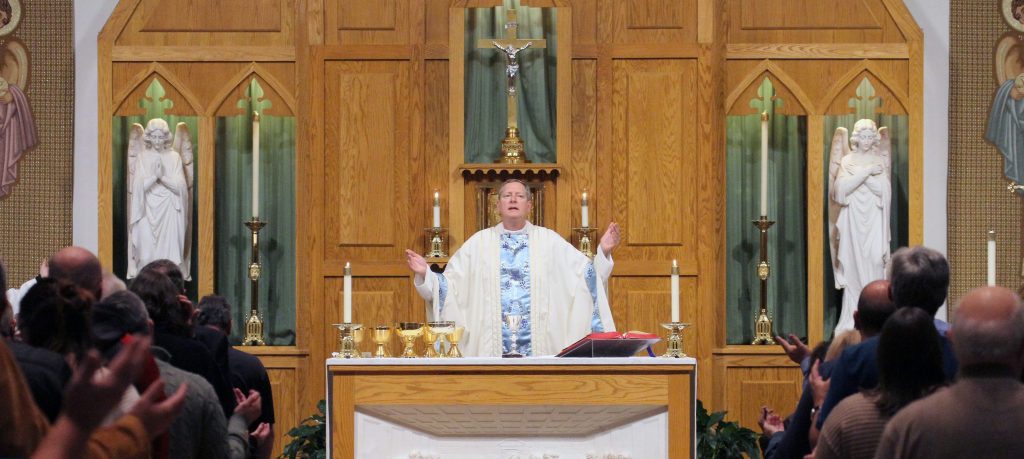 Weekend Mass Times
Saturday Vigil: 4:30 p.m.
Sunday: 8 a.m., 10 a.m. and 11:30 a.m.
Weekday Mass Times
Monday through Friday: 7:45 a.m.
Tuesday: 6:30 p.m.
Saturday: 8 a.m.

Mass on Saturday mornings at IC will be at 8 a.m. except for the first Saturday of the month when Mass will be at St. Elizabeth Ann Seton at 8:30 a.m. for the First Saturday Anointing Mass.
Confessions
Saturday: 9-10 a.m. (except for the first Saturday of the month)
Tuesday: 5:15-6:15 p.m.
Anytime by appointment
For your convenience, confessions are also available on Saturdays:
Eucharistic Adoration
Adoration is held every Tuesday starting at Noon until 6:15 p.m. There are special prayer booklets available containing prayers for vocations during adoration.
Divine Mercy Chaplet
Join us for the Divine Mercy Chaplet at 3 p.m. Monday through Friday.
Masses for Deceased Loved Ones
Offering a Mass for your loved one is a wonderful way for you and your church family to pray for our deceased.  To schedule a mass for your loved one, please call the parish office at 724-863-9550 and we will work with you to select a date and time.
Please keep in mind there is a limit of three masses (two during the week and one on the weekend) so that we can accommodate everyone wanting to have a mass said to honor their loved ones.
The stipend for a mass is $10/per mass.  You can either mail a check; drop it off; or stop by the office to schedule the mass.  Our office hours are 8 a.m. to 4 p.m. Monday-Friday.