Over 150 years old, the Church of the Immaculate Conception, with a congregation of over 6,800 individuals, is moving ahead through the 21st century. Many people have come before us, proving the foundations for this wonderful church and its various ministries, but it is our responsibility to ensure its future.
Our rich history includes fifteen dedicated men who accepted the leadership of our parish family as Pastors of Immaculate Conception Church.
1867 – Rev. Otto Kopf and Rev. T. Mullen were instrumental in forming our church before the first resident pastor arrived.
1881 – Rev. Michael Murphy
1889 – Rev. William Graham
1891 – Rev. Joseph McDonnell
1898 – Rev. Thomas McEnrue
1910 – Rev. Edward Murphy
1937 – Rev. Vincent Burke
1943 – Rev. Alphonse Mihm
1953 – Rev. James Hanlon
1958 – Msgr. Francis Mullen
1967 – Msgr. Augustine Marzhauser
1974 – Rev. Leonard Sanesi
1983 –  Msgr. Robert Shuda
1987 – Rev. James Gaston
1992 – Msgr. John Conway
2005 – Rev. John Moineau
The following former bishops have honored us by visiting our church for dedications, the sacrament of Confirmation, and other important events.
Bishop Hugh Boyle (Pittsburgh)
Bishop Hugh Lamb
Bishop William Connare
Bishop Anthony Bosco
Bishop Lawrence Brandt
Bishop Edward Malesic
Timeline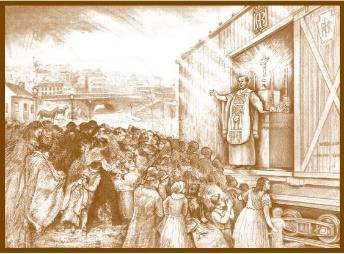 1862 – First Mass celebrated in Coal Hollow
1867 – Cornerstone laid and parish formally established with 175 families
1868 – Church dedicated under the title St. Mary of the Assumption
1871 – Church named Immaculate Conception
1873 – Land purchased for a cemetery
1875 – House & lot purchased for a rectory
1876 – Parish hall built
1878 – Hall converted into Immaculate Conception School
1882 – Sisters of Charity begin parish work
1883 – New rectory built, sacristy added to the church
1884 – Old rectory made into convent School statistics: 3 rooms, 150 students, 8 grades
1891 – Parish grows to 1,000 members
1905 – Ground purchased for a new church
1906-1910 – Immaculate Conception School temporarily closed
1923 – Cornerstone laid at present church building
1924 – Dedication of the new Immaculate Conception Church
1939 – Electric organ installed
1950 – Convent and rectory move across the street to make room for the new school building
1951 – IC joins the new Diocese of Greensburg
1952 – New IC School and Convent Building dedicated
1957 – Formation of St. Agnes Parish
1968 – 100th Anniversary; First Parish Picnic; First Folk Mass
1976 – New Pipe Organ installed
1978 – Formation of St. Elizabeth Ann Seton Parish
1981 – Cemetery enlarged; New Chapel building blessed
1985 – RCIA started
1988 – Convent closes; 1st All Souls Memorial Liturgy; 1st Thanksgiving Eve Liturgy & Social
1990 – Parish Hall closes
1991 – Children's Liturgy of the Word replaces Saturday religious education
1992 – Queen of Angels Regional Catholic School formed
1993 – 125th Anniversary; Red brick school torn down; Parish had over 2,000 families and three priests
2001 – Church addition completed and dedicated
2004 – Former Norwin East Building purchased for the new home of Queen of Angels School
2005 – Bishop Bosco Center dedicated at Queen of Angels
2006 – Parish office moves into the former school building
2008 – Rectory is torn down; Parish had 2,070 families and one priest
2011 – IC150 Celebration kicks off with a year of events
2013 – Time capsule dedication
2015 – Veteran's Monument installed in the cemetery
2016 – Parish has 2,486 families and two priests
2018 – Church floor renovated
2019 – First Filipino Mass in the Diocese of Greensburg
2019 – Relic of Saint Bernadette of Soubirous placed in the Altar
2020 – Church and sanctuary repainted
2020 – Church closed for two months due to coronavirus pandemic; Operation Safe Mode YouTube channel established