Based on the Book by Rev. Donald Calloway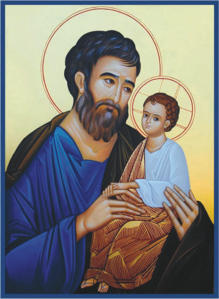 Pope Francis declared the Year 2021 as a year dedicated to Saint Joseph, marking the 150th anniversary of when Blessed Pope Pius IX declared Saint Joseph the patron Saint of the Universal Church! In a new Apostolic Letter entitled Patris Corde (With a Father's Heart), Pope Francis describes Saint Joseph as a beloved father, a courageous father, an accepting father; a father who is creatively courageous, a working father, a father in the Shadows. His letter encourages us to consecrate our hearts, homes, and parishes to the Father of Jesus and the husband of Mary!
As COVID-19 began, I spoke of Saint Joseph as the perfect "Safe Mode" saint and one that we should call on in our need, fear, and time of great anxiety. Saint Joseph has lurked in the shadow of the Holy Family that he has protected and has been overlooked in the promotion of so many other great Saints. However, Joseph is the Saint of all Saints and one that most great Saints themselves had been so devoted.
In this year of Saint Joseph and also marking a year of our "Safe Mode" lives I wanted to dedicate our hearts, families, and parishes to dear Saint Joseph!
I will hold three face-to-face conferences followed by the celebration of Holy Mass and Consecration. These events will also be made available on our OSM YouTube channel. So, plan to join us and become strong in a new way to love Jesus and Mary!!
Saint Joseph: "The Consecrated Knight"
Saint Joseph: "Delight of Saints"
Saint Joseph: "Assumed into Heaven"
Litany to Saint Joseph
Final Blessing
Saint Joseph: "Just and Reverent Man"
Saint Joseph: "Most Prudent"
Saint Joseph: "Most Obedient"
Litany to Saint Joseph
Final Blessing
Saint Joseph: "Peaceful Sleep"
Saint Joseph: "Hope of the Sick"
Saint Joseph: Patron of the Dying"
Litany to Saint Joseph
Final Blessing
Mass of Consecration – May 3 at 6:30 p.m. at Saint Elizabeth Ann Seton
Homily
Saint Joseph in the Life of Mother Seton
Saint Joseph: "Model of Workman"
Saint Joseph: "Pillar of Families"
Consecration to Saint Joseph
Reception of Home Painting
NOTE: At the Mass of Consecration, each family will be given a framed picture of Saint Joseph to display in a place of honor and prayer!