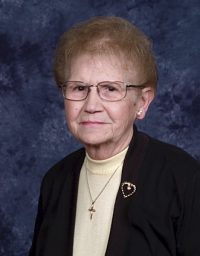 After 36 years of dedicated work and service to the parish of Immaculate Conception, Barb Dubosky retired from her position of Chief Financial Manager and Facility Director of both the church/parish and cemetery! Barb had an amazing career as an employee of our parish which will always be appreciated by the pastors and the people for which she served! Over the years her position grew as her talents and years of experience proved valuable and her leadership unmatched in dedication and brilliance!
It was a simple phone call that she made to the parish office to sign up for the choir that got her an invitation to start her career at Immaculate Conception. Rev. Robert Shuda, our pastor at the time, took the opportunity to ask Barb if she would be willing to come and work for the parish for he needed a bookkeeper and parish manager. She said yes and would serve Father Shuda and three other pastors for the next 36 years.
Just Like in the Gospel
Those who were found trustworthy in small matters would be asked to share in greater matters as well. Her role and responsibilities continued to grow over the years. She was no longer just the manager of the parish and the school she would also tend to the cemetery and the management of facilities. Her number of years at the parish and the growing role of her position made her invaluable to the success and growth of the parish.
Speaking from Personal Experience
When I came to the parish in 2005 as the pastor the parish was in major flux with no real direction for the future. We were coming off the failed project of regionalization (Gaudium et Spes) leaving our parish with the possibility of a merger and an off-site office facility. There were so many moving parts and financial burdens that I was at a loss to which direction to focus my attention. I quickly learned that Barb would be my wise sage and partner to the rebuilding of the parish.
"Just 20 Minutes a Day"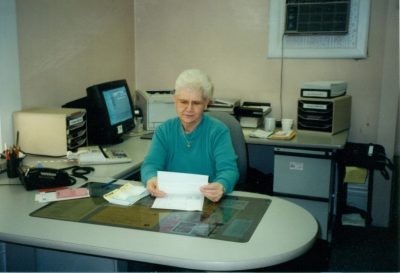 How many info commercials begin by telling you that you could lose weight, gain strength and grow new hair…. If you spend just 20 minutes a day on a certain regiment prescribe by their company. Most of these schemes are fraudulent or almost undesirable to continue long enough to make a difference. But this was not the case with Barb and I as we began every morning (5:30 am) for 20 minutes going over the challenges and the strategies that could get us back up and moving in a positive direction. Whether if it were as simple as a $2.00 monthly ticket or a complete reorganizing of priorities, funds, and parish life we developed our plan and scope 20 minutes at a time!
Along with all our staff members and the generosity of parishioners sharing their time, talent, and treasure, things changed quickly and soon the parish was known for its success and presence of the corner of Second and Oak! Barb managed the buying of property and development of the two new sections of the cemetery which now is served with a substantial endowment. The cemetery now can offer places of sacred burial for years to come! The finance, cemetery, and social committees were tended to with her guidance and expertise.  The facilities and grounds were reformed and remodeled to meet the parishes growing needs. Every project from demolition to upgrading of our Catechetical/Administration building was under Barb's careful eye.
2,610 days
2,610 days…that is the accumulative time of our 20-minute (4 days a week) conversations over the years that made my administration a success at Immaculate Conception! Many times, we shared ideas, problems, strategies, and parish needs that came to fruition through prayer and patience as well as hard work and resolve. Many a morning we would conclude by saying… well if that is to happen…. The Holy Spirit would guide us! Sometimes we would say… that is a problem to solve another day!! The Spirit and the day seemed to always arrive and the plan and the work moved forward.
Invested Interest
I think that behind every good pastor there is a great staff. I walked into this parish with the most dedicated people you could ever imagine in every position of parish ministry and life! I thank my predecessors for hiring people who loved their work and the parish as well. Barb had a vested interest in the work she did because it was her parish and she wanted to see it succeed beyond her years as an employee. Every piece of advice, decision, and priority that she would collaborate on was for securing and growing the wealth, health, and spirit of her parish!
Retiring but still consulting!
We are blessed to have hired a new parish finance administrator Courtney Ruby. The transition has been smooth because Courtney has the love of the parish in her heart and the experience to tend to the business of the parish. With Barb's overwhelming amount of knowledge of the functioning of a parish and its relationship with the cemetery and diocese, she has agreed to stay on part-time to aid Courtney through the maze of parish management and over the many hurdles of diocesan policies. The future of our parish is in good hands and when we have a need for direction or just simple affirmation Barb is still there to walk us through every step of the way.
THANK YOU!
On behalf of the parishioners and the staff of Immaculate Conception Church, we thank Barb for being such a loyal and good steward of the parish! I want to thank her personally for teaching me how to be an administrator and to trust in the laity for direction and counsel.  I will miss the 20-minute morning meetings but I still know… I can phone a friend when I am in trouble!!
Thank you, Barb Dubosky… my friend!!
~ Fr. John